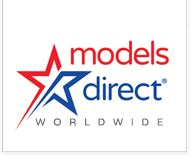 We're a real modelling agency, finding models paid work since 1990
Our responsibility
We appreciate that being an model, actor, singer, dancer, entertainer is competitive and that both talent and clients have a wide choice of agencies to work with.
However, not all talent agencies are the same in terms of their approach, their standards or their values. This page sets out the commitment we make to both our talent and our clients.
Our promise to our talent

We'll put you forward whenever your look and skills are called for.
We'll give you all the advice and support you need to maximise your chances of finding work.
We'll make sure you have all the information you need you need to travel to your assignment and perform well.
We'll keep the personal information you provide safe and secure.
We'll research and assess new clients carefully before we give them access to our online database.
We'll do our best to negotiate the best possible rate on your behalf.
Our promise to clients
We'll do our very best to find the people you need.
We'll do everything in our power to meet your timescale, no matter how demanding.
We'll keep our rates as competitive as possible.
We'll make sure the talent we provide are punctual, briefed on what you need and ready to perform.
We'll check with you after the assignment to make sure everything went well.
We'll act quickly and effectively to resolve any problems.
Apply to be a model
Live the moments
"This was a very nice experience as a model. On the day we all had fun and it would be nice to do it again. The assignment involved smiling and showing the different emotions we use when we are at a football match - basically to live the moments at a football match. I learnt a lot and gained some more experience and skills. The make up woman on the shoot also told me to not stop here and look for something more in the industry. The confidence I have gained from Models Direct and my friends has improved my desire to get in to modelling."
Vadim, Model fee: £250
Male model reviews