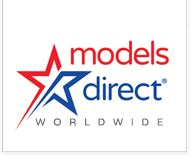 We're a real modelling agency, finding models paid work since 1990
Frequently asked Modelling questions
New and aspiring talent always have plenty of questions. How to I find work? What's it really like?
We've created this section to answer the questions we hear most often. If you don't find what you're looking for, please get in touch and we'll do our best to help.
Apply to be a model
Find out more about our modelling agency here.
Definitely recommend the experience
"Casey really enjoyed his first filming experience; the clients were really patient and understanding of his needs as a baby. Anna was very informative and answered all of our questions promptly with detailed information. Casey liked all the attention and was happy enough to be in his cot and car seat with the film running and us all pulling funny faces at him. I would definitely recommend both the experience and working with the professionals at Models Direct."
Melissa for Casey, 14 months, Model fee: £100
Baby model reviews