Influencers have been actively around for a couple of decades, and are generally more familiar with the younger crowd.
Apply to be a model Book models
In generic terms, an influencer is a person who has a considerable presence on the Internet and social media, and thus has the power to affect a customer's buying habits. In effect, they are a sort of Internet advertising "IT girl", although they don't have to be female, of course. In their own right, they are "celebrities".
Influencers are popular (and thus effective) in various industries around the world, but they're predominately active in the fashion world. It's not hard to see why. Fashion and modelling is a wonderful industry - full of hard work, excitement and creativity - but from a corporate brand's perspective, the object is to sell products. When a celebrity has a large following on social media platforms, brands see this as one of their most useful marketing weapons.
Consider the following: in 2018, the Global Web Index conducted a survey of over 3,300 internet users across the UK and the US. The survey comprised both males and females. Males were more likely to seek out an opinion before making a purchase online. 41% of males revealed that influencers affected their purchase decisions; in females the figure was 30%. If these figures are similar across all purchase decisions, it's clear that influencers hold a mighty sway with customers. Regarding the top categories followed, males tended to follow sports / outdoor activities, gaming and food. Women followed food, fashion and beauty (this last category was followed by 54% of females).
By 2017, the average number of followers for each of the top ten fashion influencers on Instagram was 2.4 million. Obviously, that doesn't mean that every single one of the average 2.4 million people following each of the top 10 fashion influencers will buy a product purely because of that influencer's endorsement, but it does reveal the potential authority an influencer can have on a follower / potential customer. And, of course, brands know this all too well.
Influencer: Coral Golding
We just got back from the South of France where we filmed a commercial as a family for 'Oliver's Travels'. It was a truly amazing experience! We stayed in an unbelievable villa and saw some beautiful sights! Thank you so so much Models Direct for getting us this job!! We absolutely loved it!
Watch the final video below or click here to read all about the behind the scenes fun.
With social media use on the increase (and traditional TV viewing figures decreasing because of it), an influencer's objective to persuade has never been so apparent. Influencers are usually paid through affiliate links: it's not a clear case of the most followers, the larger the payment. If you want to become an influencer, good luck to you. You'll need a strong media presence, an Instagram account with hundreds of thousands of followers and good contacts.
We'd like to think that an influencer identifies with the brands they are promoting, and thus genuinely believes in the product. However, whilst some influencers have indeed turned down offers to promote brands on the grounds that they didn't have faith in the product, a lot will surrender to the buck and endorse any brand. It's business.
Kristina Karlsen
Yesterday's family modelling job for a Electrolux was great fun. It was a long day, but the crew were funny and it was totally relaxing. We love doing jobs together as a family and the kids are getting so used to it now. Thanks to Charlie at Models Direct for this booking.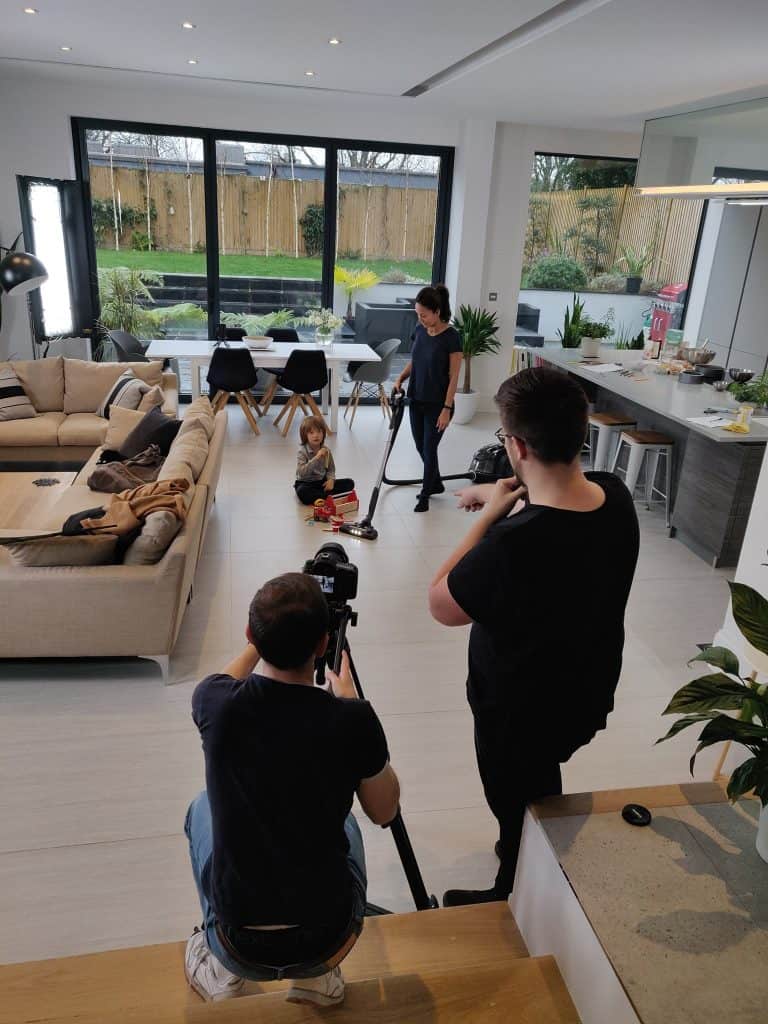 Whichever way you look at it, global brands see the value of fashion influencers, so they're here to stay for the unforeseeable future. Social media campaigns are not going away, and in turn we'll see more famous influencers in the Internet spotlight. Embrace it.