Disabled models success stories
Everyone likes a happy ending. When it comes to our talented disabled models, we've had more than our fair share. And, with the growing demand for unique models with disabilities, long may it continue!
Apply to be a model Book models
We've recently discussed that disabled models are absolutely vital to our clients in a whole range of ways. Without them there wouldn't be successful campaigns, so it's not just our models enjoying success - quality feedback from our clients is crucial.
But in this article we'd like to focus on our models with disabilities and to highlight the details of all their good work: the job itself, the client, the model's feedback. Basically, everything that makes the superb world of modelling what it is.
Success # 1
First in the limelight is Darin. Our champ was the lucky / deserved model who flew to sunny Spain to model a range of wheelchairs for Invacare. The company traces its roots as far back as 1885, and has continued to expand to where it is today - a 5,000 employee-strong operation marketed in 100 countries across the globe, specialising in products, training and services to all people living with disabilities. Talk about a brand needing the right person for their marketing needs!
Darin - who was left paralysed from the waist down after an incident in 1998 - was asked to pose on a range of Invacare wheelchairs for both photo shoots and videos. Alongside him were a team of friendly professionals to ensure everything went smoothly.
When he returned to London, Darin said, "We completed the work successfully and everyone was happy and I believe we have done a brilliant job. I found it interesting and the team were amazing - very friendly, polite and easy to work with." Success story? You could say that!
Success # 2
Next up is Alex, who was whisked to Heathrow Airport to work with Ingenious - a media company comprising filmmakers, writers, photographers and designers. Wheelchair user Alex was met on arrival (of course, as all VIPs should be!), and given the low-down on what to expect from the afternoon's work. Alex's role was to be filmed at the UK's no.1 airport, before being photographed having an informal interview.
Alex was quick to praise how well his day was organised. "It was simple from the start," he said. "Everywhere was accessible, parking was easy and directions and contact info were both provided." On future assignments, Alex said, "I hope to promote diversity and inclusion as a wheelchair user in more campaigns. Many thanks to everyone - it's been a privilege!" That's another chapter for the Success Story book. Good on you, Alex.
Success # 3
What can we say about Noah that hasn't been said already? Born with spina bifida, Noah was introduced to us in 2016, and we were all immediately taken with his courage, talent and boundless energy. Noah starred in a Sainsbury's Christmas advert, and now has a lifetime contract with us. He's a true superstar in his own right.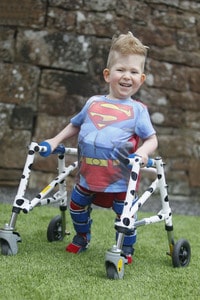 Noah's proud mum, Shelley, beamed, "Watching Noah's face light up when the cameras started rolling and when he placed the star on top of the Christmas tree really was priceless." Shelly then said that Noah nailed his modelling experience on the second take!
Shelley was quick to say there is work out there for most people. Children, in particular, are seen as gold dust to clients, so please get in touch with us if you have a child with physical or mental difficulties; it could be the start of a beautiful - and successful - relationship!
Success # 4
Motability is a wonderful scheme allowing people to exchange their mobility allowance to lease a new scooter, powered wheelchair or Wheelchair Accessible Vehicle. Quite an idea, right? And Frances - our beautiful first-time model with spina bifida - was geared up as she posed as a driver who had broken down (mechanically speaking, of course!) Enter the RAC for the shoot, who assisted Frances at every moment.
"I had the most brilliant day!" exclaimed Frances. "I was particularly interested in shooting the same scene from different viewpoints - some very close up, some at long range. Thank you Molly at Models Direct for all your endlessly cheerful emails! I can't wait for the next assignment!"
Disabled modelling isn't a fad or craze; for a long time we've known the value of talented individuals living with disabilities. We're interested in hearing from anyone with the confidence to succeed in our exciting industry. Will you be in one of the next chapters of our Success Story book? You have the power to succeed, so what's stopping you?