Though a person's disability can limit the amount of their activity, there is no reason at all why they shouldn't succeed in modelling. Indeed, a rise in the UK's disabled population has seen more media exposure and campaigns, which is only a good thing. There are more disabled celebrities than ever - TV stars include Adam Hills, Alex Brooker and Warwick Davis (already a well-known film actor and co-Director of an agency). The sporting world has highlighted successes of athletes including Ellie Simmonds and Hannah Cockroft, with a deserved focus on all our Paralympians.
Apply to be a model Book models
There is an estimated 14 million people in the UK with a disability. This represents an increase of 20% seen in 2014. Defined in the Equality Act 2010 as "a long-standing illness, disability or impairment which causes substantial difficulty in day-to-day activities", there is a clear proportion of the country's population that contributes to both the culture and economy.
Noah, Reference: 1496
Noah had lots of fun filming for the Sainsburys Christmas advert. From leaving home to arriving in London, we were made to feel really special. Being on set was the most exciting part of the shoot. Watching Noah's face light up when the cameras started rolling and when he placed the star on top of the Christmas tree really was priceless. On the second shot, the director confirmed that this was the one, which was very impressive considering Noah's disability.
The shift in media attention over the past few years has contributed to more disabled models, and more modelling jobs. Global companies have embraced the general perception and added disabled models to their catalogues. If you're looking to carve out a new life by stepping into the spotlight, Models Direct has laid out a few words of encouragement.
1. Physical differences aside, there is no difference between a disabled model and a non-disabled one. Ad campaigns often demand qualities possessed by both groups, so don't see your impairment as just one that differentiates you from a fully-functional model.
2. Models are not just an important cog in the fashion world; disabled models signify diversity, and companies are pleased to have them on their books to embrace the variety. Search for brands and companies who you think would benefit from your skills, or simply contact us by filling out our application form and we'll do the rest.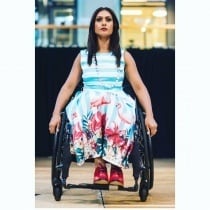 3. Of course, a disability can be used to your advantage - and often the job requires an unconventional model for an advert campaign. Be canny and be persistent. Above all, keep researching different avenues and your hard work will eventually pay off.
4. Be positive, because brands of all sizes are becoming more disabled-friendly. Take Tommy Hilfiger - one of the leading brands in the world, and one that champions style and independence. Their "Adaptive" range caters for everyone with disabilities, and feature clothes with one-handed zippers, magnetic buttons, wider fits for prosthetics, stretched fabrics and adjustable waists. Their range increases year after year - a sign that the demand is there, and that a global fashion house has recognised it.
Gary, Reference: Z256946
As ever the day filming for Kwikfit went very well and was quite seamless despite the very early start! It was a great experience and I enjoyed it. My short acting role was great fun, I'd like to say it was a high octane stunt scene but in reality I just had to pull up in my car, get out, shake hands with the Kwik Fit engineer and ask for a new tyre!
5. Most clothing companies adjust their brands to suit the needs for the disabled - i.e. they don't create new lines; they simply tweak original clothes to make them functional for everyone. When they do this, they're saying that inclusivity is second nature, and not ground-breaking. Also, it encourages other companies to do the same - after all, it's business and other companies are competitors. This is all good for disabled models.