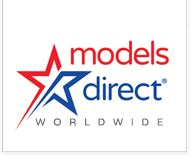 We're a real modelling agency, finding models paid work since 1990
Hair Models - Become a Hair Model
If your hair is your best feature then why not make the most of it and take a look at becoming a hair model. Our hair models are featured on all types of hair products from shampoo, hair colours and hairspray through to the packaging on hair straighteners or hair dryers.
If you are willing to have your hair cut, styled or coloured then you might be just what our hair artist or professional hairdresser clients are looking for.
Both male and female models are always needed to feature as hair models in hair competitions, hair shows or photo shoots and you get your hair done for free!
So whether you are blond, brunette or a red head with short or long hair, if your hair is your pride and joy then contact Models Direct Model Agency and enquire about becoming a hair model and the hair modelling opportunities available.
Apply to be a model
Fantastic day
"This was my first job and I was excited. When I arrived I found there were other models from different agencies and we got to know each which helped with our confidence. The photographer wanted to take a range of photos for a cinemas brochure. It was great fun and the photographer made me feel really relaxed. I would join Models Direct as you are safe in the knowledge that the job you are going to is a good one. I had a fantastic day and have gained some experience which has improved my confidence."
Benjamin, Model fee: £180
Teenager model reviews