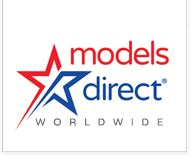 We're a real modelling agency, finding models paid work since 1990
Female Models looks & types
We represent female modelling of all shapes, sizes and looks. Our clients have a ceaseless demand for female models from all different modelling categories.
Apply to be a female model
Good money
"It was great being a model for the day, I was relaxed and had fun with the others, and I would definitely to do that again. I enjoyed every moment of the assignment. I was acting as a child patient's mother for NHS Professional's latest advertising material. What I have learnt from this experience is to devote yourself, contribute towards great team work and be confident. I would recommend other people to take the opportunity for this kind of work through Models Direct as I am doing. It requires ambition to gain experience and through this you will certainly gain good money."
Lin, Model fee: £200
Female model reviews
Matalan
"I was really nervous before starting my contract to be a fittings model for Matalan, but everyone really made me feel at ease. I'm learning new things every day! Thank you Models Direct."
Jessica, Model fee: £240
Female model reviews